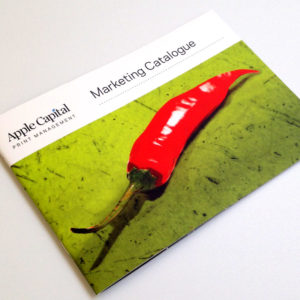 Apple Capital Print Management offers forward-thinking, flexible print and communications service to London's fast-paced business world. The company was founded by and run by a group of seasoned print industry professionals who between them have a combined and impressive level of experience working for a number of companies in London's competitive printing industry for many years before starting the Apple Capital PM brand.
Our aim from the start has always been to provide a bespoke print and design service to all our customers whatever their requirement across all industries… over the years, we've gained particular expertise in meeting the needs of the fashion, retail and leisure industries, legal practices, art galleries, financial and fund management, estate agents, commodities, and healthcare providers.
With Apple Capital you will work closely with a dedicated account manager who understands your business and its needs, supported by a team of skilled print experts using state of the art technology….adept at working to tight deadlines and to your timelines, we pride ourselves on always going that extra mile!